Door Window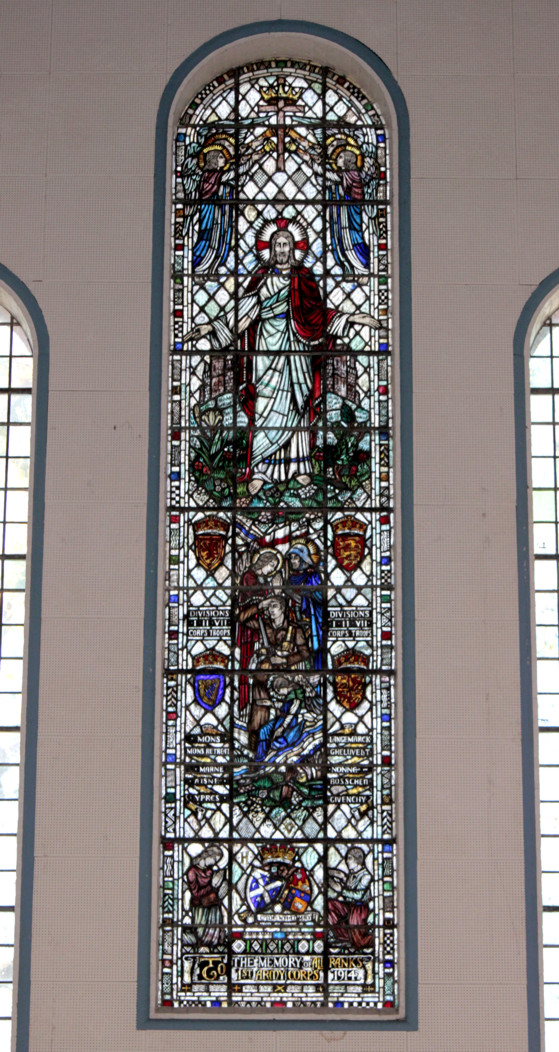 Shown above is a photograph of the stained glass window located above the main door to the church.
Shown below, the same image has been divided into four areas. Reproduced next to each of those four parts is David Reid's description of that bit of the stained glass, as based on the notes of the designer of the stained glass, Walter Cook. The original text has been changed in one regard, where the original text used the words "Great Britain", the text below uses the term "the United Kingdom".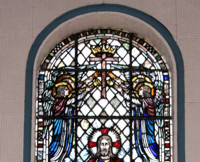 On Sunday the 29th Sept.1935, the window in the west wall, gifted by the Countess Haig, in memory of all ranks of I Corps who fell in 1914, was unveiled by Capt. Sir Ian Fraser, Chairman of St. Dunstan's. Mr. Walter J. R. Cook designed and executed this window.
Above Christ is seen the symbols of His sacrifice, the Cross and the Martyr's Crown. On either side the Herald Angels loudly proclaim Peace on Earth.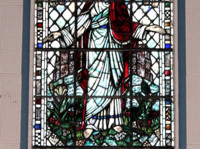 The subject of this Window is Peace, as fought for by the men of the First Corps in 1914, to whom it is dedicated. The upper portion symbolises this by showing the figure of Christ walking alone, in the poppy-covered fields of Flanders, His hands stretched out in blessing and hope. Behind Him is seen the Holy City, the New Jerusalem, symbolising as it does the rebuilding of the many ruined towns and villages of France.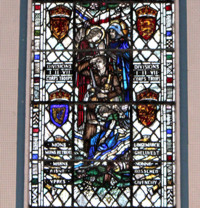 Below is shown the miracle of Mons. A soldier of the First Corps, in battle-order, stands amid the smoke of battle, shielding his eyes as he gazes towards the Light of the vision seen during the heavy fighting. Behind, St. George, Patron Saint of all soldiers, shelters him beneath his banner, while an angel prays. Kneeling at his feet, another angel points in sorrow to the destruction there, of broken wire, shattered trees and torn earth.
On either side are the Battle Honours of the Corps - Mons, retreat from Mons, Marne, Aisne, Ypres, Langemarck, Glieluvelt, Nonne Bosschen and Givenchy - while the Arms of the four countries of the United Kingdom are shown surmounted by a Royal Crown.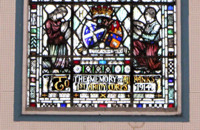 At the base of the Window above the name of the First Corps are the Heraldic Arms of their Commander, Earl Haig, with those of Lady Haig, the donor. On the left a mourning mother prays, while on the right, youth, symbol of the new generation, looks toward the future in expectation.
Next: Flags within the Church